Proptech - The Emerging Disruption in Real Estate
Posted On March 29, 2018
LOOKING at the relentless wave of innovation in the past decade, it is not surprising that this trend will sweep over real estate, an age-old industry ripe for disruption.

We know that a trend is established when it becomes a noun or verb on its own. Terms such as Googling, social media, fintech and proptech did not exist 10 years ago, but are now exoteric and commonplace.

In proptech, three forms of technologies are particularly pertinent and pervasive: blockchain, augmented reality (AR) and artificial intelligence (AI). In Singapore, these technologies are already making their impact felt in the real estate industry with their adoption by startups, global corporations and the government.

Blockchain: facilitating real estate transactions

A form of distributed ledger, the blockchain is distributed across nodes, locations and even countries. Being decentralised, it eliminates the need for an intermediary to process, validate or authenticate transactions.

The name blockchain refers to how "blocks", which contains transaction records, are added to the chain by using hashing, a cryptographic signature. All participants on the distributed ledger can view all the records, and this infrastructure provides a verifiable and auditable history of all information stored on that particular dataset.

In the real estate context, this means buyers and sellers are able to view the transactions related to the assets involved.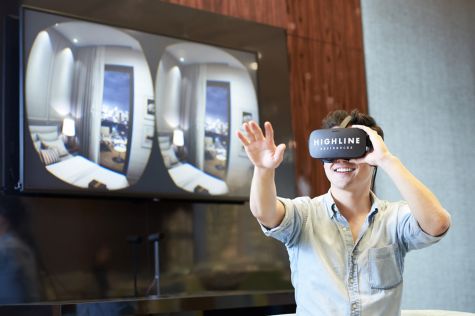 At the sales gallery for Highline Residences, visitors donned an Oculus Rift headset and experienced 360-degree immersive virtual reality show suites. PHOTO: KEPPEL LAND
Local startups such as Averspace and Fundplaces have started using the blockchain for digital contracts and real estate investing, respectively.

Averspace stores digital contracts on the blockchain, enabling homeowners and buyers/tenants to deal directly with each other without a need to sign a physical agreement. Digital contracts are also legally enforceable, thereby removing the hassle of going through legal professionals or paperwork.

Fundplaces, a deal origination platform, allows users to invest in real estate projects through their own currency, or "tiles", which represents their ownership share. Ownership and transaction details are then stored on the blockchain.

The blockchain brings with it two main advantages: security and transparency.

Greater transparency is possible since each party involved will have visibility of every transaction. When a permanent and unalterable record of each transaction is created with each party, instead of with just a central authority, there is no single point of failure, resulting in greater security. Such a platform is especially useful for real estate transactions, where every contract is somewhat standardised and large amounts are at stake.

But bigger transactions of more than S$10 million often involve negotiations, entailing terms and conditions specific to each deal, which might pose more of a challenge for the blockchain infrastructure.

So the adoption of blockchain might help facilitate a higher volume of smaller and standardised transactions. But bigger and more complex deals are more likely to require human interaction and intervention, and therefore need to be documented and handled differently.

Augmented reality: viewing and customisation

AR is a branch of virtual reality, the overarching term for experiences created using either real-world content, computer generated (CG) content, or a combination of both, that allows users to experience the real world without having to be in it physically.

AR is a combination of both - overlaying CG content on the real world. A popular example of AR technology is Pokémon Go, which has redefined the experience for mobile gaming.

Real estate-related companies that have leveraged this technology include home furnishers like Ikea and Wayfair. By superimposing a CG image of their products onto an actual environment, consumers are able to visualise the furnishing in its exact location, allowing for greater convenience and customisation.

Tools such as Floored are used by developers and brokers to show the fit-out of an unfinished property, enabling them to configure, compare, and arrange virtual tours.

Committing to a property purchase or rental is an important decision and time-consuming process. Compared to the current practices of linking to websites or physical viewings, these applications help to increase client engagement as there is more interaction and visualisation.

Both landlords and occupiers can also save time as they do not have to be physically present for viewings and can just visualise various configurations at the click of a button.

Artificial intelligence: extracting insights from data

The most valuable tech companies (Facebook, Amazon, Netflix, Google) are where they are today because of the trove of consumer data they possess and continue to accumulate. In the realm of technology, data is wealth, and AI is the key to unlocking this wealth. AI, as the name suggests, is teaching the computer to think like a human, making sense of the data fed to it.

With the proliferation of data, increased computing power, and availability of algorithms, AI is able to unlock valuable insights from everyday data.

In the real estate context, macroeconomic data, transaction data and property features can be used to determine the current valuation and future value of a property.

There is only so much information the average human brain can process, whereas for AI, this is determined by computing power, which is currently being augmented at an exponential rate.

Put simply, algorithms process the relevant data sets, establish the relationships between them, and project that relationship onto new query parameters to find the unknown.

A good example of such an application would be Zillow, the largest real estate portal in the US. It provides a "Zestimate" or a valuation for the property the user is querying about, as well as a forecast of property value trends of up to a year. These features provide users with more visibility and support their decision-making process based on actual data.

Another potential application is that of recommendation systems. They work in the same way as how major e-commerce websites recommend what you might be interested in based on your buying history and preferences.

When it comes to property-related decisions, AI can help to narrow down choices based on a user's financial situation, requirements and preferences, thereby giving considerable time and cost savings. Scrolling through endless pages of listings might become an activity of the past for both buyers and brokers as the optimal options get curated by AI.

Proptech: transforming real estate in Singapore

Cognisant of the need to keep up with change, the Singapore government has introduced an Industry Transformation Map (ITM) for the real estate industry. The ITM is focused on using automation, digitised contract templates, and predictive systems to streamline processes for property transactions and facilities management.

Addressing complaints from buyers and developers about the long transaction processes and regulatory hurdles, the ITM will leverage technology to help streamline the selling and buying processes, as well as ensure that the industry becomes more efficient and customer-centric.

It is certain that there will be an impact on traditional business operating models. Whether this impact turns out to be positive or negative depends largely on how real estate players will use them to their advantage.

Nevertheless, these technologies are still a long way away from replacing human judgment, touch, and ability to react to dynamic changes, which are all critical to the decision-making process.
Source: The Business Times