Upscale Property Projects Worth Dh2.7b Launched in Sharjah
Posted On January 16, 2018
Construction will commence within weeks on three new mega projects in Sharjah, each of which will try to make full use of the emirate's extensive waterfront possibilities. The combined investments would be in the range of Dh2.7 billion, including Dh2.4 billion on developing Maryam Island into a 460,000 square metre mixed-use destination featuring 1,890 freehold residences and a hotel component.
Then there is the "Kalba Waterfront", which will feature extensive retail and entertainment options and again with a waterside setting.

The third of the projects announced on Tuesday (January 16) is for a luxury hotel, the "Palace Al Khan".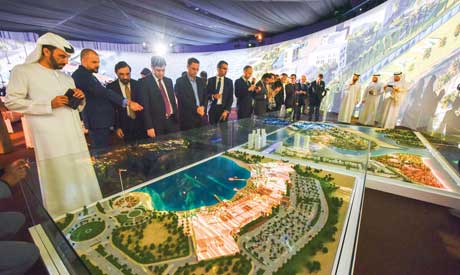 Guests at ceremony. A 50:50 alliance between the Sharjah Investment and Development Authority (Shurooq) and Abu Dhabi-headquartered Eagle Hills is responsible for all three projects. Ahmed Ramzan/ Gulf News
Spread over a 66,000 square metre expanse, the property will come on a location that has vestiges dating back centuries. The project will retain all of the "pearl fishing village" remnants, according to the developer. (The 87-room hotel will be managed by an Emaar Hospitality Group brand and cost Dh120 million to build.) All three projects will benefit from a tight construction schedule, with key phases being complete in "three to four years".

A 50:50 alliance between the Sharjah Investment & Development Authority (Shurooq) and Abu Dhabi-headquartered Eagle Hills is responsible for all three projects. A new entity, Eagle Hills Sharjah Development, is the operating entity.
According to Shaikha Budoor Bint Sultan Al Qasimi, Chairperson of Shurooq, "We are today building a new city for the Sharjah of the future. "We are confident the three projects will add to the quality of real estate in the emirate and lead to more pioneering projects in line with aspirations."
"Shurooq's intention is to create an identity for Sharjah built around these newer luxury developments," said Marwan Bin Jasem Al Sarkal, CEO of Shurooq.
"It will be part of our move to diversify the local economy and real estate will have a major say in that." (Shurooq's real estate portfolio includes multiple urban renewal programmes across the city.)
For Eagle Hills, a privately held real estate investment company with Emaar's Mohammad Alabbar as Chairman, the move into Sharjah builds on its UAE portfolio. Until now, its development portfolio had been weighted by signature projects, principally hospitality-themed, in locations such as Morocco and Serbia. (Eagle Hills is also currently working on a hotel and gated community project in Fujairah.) "Across all three projects, we will maintain the special culture that is so associated with Sharjah," said Alabbar. "There is nothing to suggest that Eagle Hills would only take on non-UAE projects. The company very much has a role in the UAE's development space."
Sharjah's real estate sector has been in over drive over the last two years. New initiatives are coming up such as an industrial free zone and which would decongest some of the established commercial areas within the city.
The market has also seen the entry of Arada, a joint venture involving Sharjah and Saudi investment companies, and whose project, Aljada, aims to build on one of the last stretches of land in the heart of the city. Areas such as University City and further east are also going through the development phase.
Sharjah goes upscale with trio of Eagle Hills developed projects
It is not greenfield sites or the outskirts that Sharjah has provided for three new high-profile projects. Each of these will fill gaps in the emirate's development arena and makes full use of what nature and history have offered it.
* For instance, the Kalba Waterfront retail destination will overlook a lagoon lined with mangroves. And sticking with the natural theme, the mall will have street-like shopping experiences. The gross leasable area will be 11,204 square metres and projected completion in Q3-19. Cost will be Dh160 million.
Making use of the offshore location, Maryam Island has an expected completion date of Q4-19. Apart from the 1,890 homes, there will be five- and four-star hotels with a combined 602 rooms. The development cost is pegged at Dh2.4 billion.
The pearl fishing village of Al Khan will now have prominence as the future location for the super-premium, 87-key Palace Al Khan hotel. It will cover an area of 66,302 square metres along the Al Khan coastline. Completion is projected for Q2-20.
Source: Gulf News