PropTech Revolution Takes Over Property Deals and Financing in UAE
Posted On July 27, 2017
The global property technology (PropTech) revolution has arrived in the UAE, with more than two-thirds of UAE home buyers turning to technology to help gather information relevant to their purchases, according to a research from HSBC.
The study found that 72 per cent of UAE property buyers search for available properties online, 67 per cent check the value of their current home, 65 per cent look for information on taxes and regulations, 65 per cent research where to live, and 64 per cent explore prospective home prices.

'Beyond the Bricks, The Future of Home Buying', the new global research report from HSBC, assesses the views of over 9,000 people in nine countries, including over 1,000 respondents in the UAE. The study provides insights into how people really feel and behave when buying, renting and owning their own homes.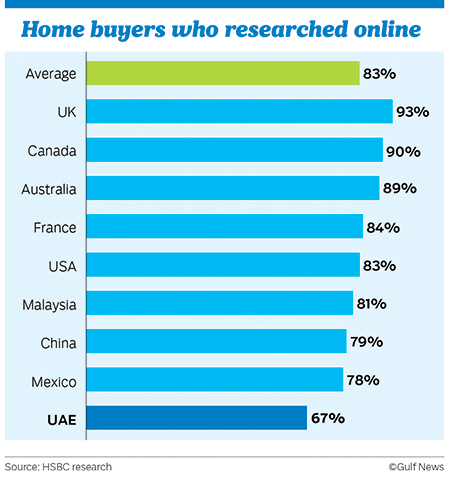 The HSBC-commissioned research quantifies how the wide-scale use of technology in the real estate purchase process is bringing the PropTech revolution to the UAE.
Disruption
The UAE findings reinforce forecasts that in the wake of the revolutionary change that financial technology (fintech) is having on the banking sector, PropTech will similarly disrupt the property sector.
Property websites are increasingly turning to technologies such as artificial intelligence and virtual reality to transform each stage of the home-buying process. They are delivering end-to-end services, including many of those traditionally offered by estate agents.
The scale of this transformation globally can be seen in the funding of disruptive PropTech firms, which rose phenomenally, from $221 million (Dh811.73 million) in 2012 to over $2 billion in 2016.
"The process of buying a home in the UAE will change substantially in coming years," said Kunal Malani, regional head of Customer Value Management, Retail Banking and Wealth Management, HSBC, MENA. "It will be a more streamlined transaction, with buyers and sellers having greater control and relying much more on technology."
These efforts are being led by UAE smart government and Smart Dubai initiatives, and forward-looking government entities and regulators such as the Dubai Land Department (DLD) and its Real Estate Regulatory Agency (Rera).
"By putting a growing number of databases and services online, they are demonstrating the early power of PropTech and helping to simplify the home-buying process," Malani said.
Some examples of the DLD's work in this field include the Investment Map portal that gives investors and businesses practical information on ongoing real estate investment projects; the Trust Account System app, which manages the registration of developers and their projects; and Ejari, a lease application and management app designed to provide flexibility and transparency to the process.
The UAE private sector also is helping to drive the PropTech trend, with the number of property listing websites rising sharply in recent years, followed by a growing range of mortgage comparison sites. These websites compete for users by offering a wide array of services to improve and simplify the home buying process.
Technologies include live chat services, searchable databases of online brokers and agents, and cloud-based services that let website visitors save property favourites for later viewing on any device.
"While many people in the UAE are already doing their property research online, physically visiting an estate agent's office could soon become a thing of the past. Property websites are becoming considerably more sophisticated, including by partnering with real estate consultants to use big data to bring more and better properties to prospective buyers," said Asma Dakkak, a research manager with JLL in Dubai.
Source: Gulf News